Physio-logical raise over £8000 for Rowans Hospice
Mid-September, 3 members of our Physio-logical team took on the 100-meter Spinnaker Tower Abseil raising money for Rowans Hospice.
Kate, Kallum and I were lucky enough to have a lovely sunny and calm-ish day for our abseil.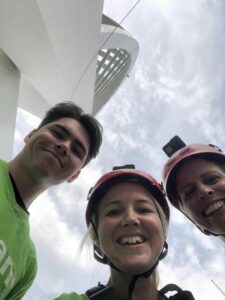 "I really enjoyed it until we got lower down, and the wind started to push me across, by the end my right leg was aching!! It was all worth it to raise £1015 for the amazing Rowan's Hospice."
If you would like to support us on our abseil adventure please feel free to donate to our Just Giving page.
The Day of the Spinnaker Tower Abseil
On arrival we were given a safety briefing, harnessed up then started our descent.
We reached the top (via lift), walked through the platform with the glass floor, descended some steps until we were greeted by abseiling staff.
We had our harnesses re checked and were clipped on, this was the scary bit – we stepped out onto the platform then had to step over a bar to put our feet onto the wall of the Spinnaker Tower. We were told to get used to sitting into our harness and were told to walk not hop down the wall slowly letting our rope out.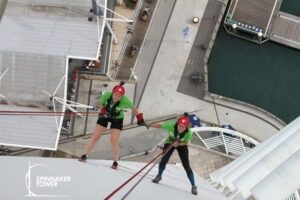 As soon as I trusted the harness, I started my descent. I took time to take in the views across the Solent to Isle of Wight, then I built my confidence and started to wave at family and friends who were watching from the ground.
All in all, it was great fun until the hard bit at the end where I had to work to keep central on the wall!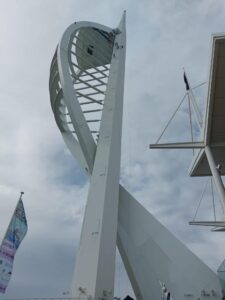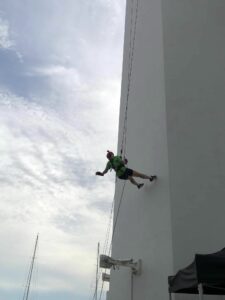 Would I recommend it? yes, I would.
Thank you to everyone who supported us and donated to the Rowans Hospice
The Rowans Hospice holds a very special place in our hearts, the Physio-logical Team as well as my family have enjoyed taking part in many fundraising events over the last few years to support the incredible work they do there, these have included running a marathon and the 3 Peaks challenge, bringing our fundraising total now up to  £8000!
If you haven't yet and would like to donate some money to Rowan's Hospice then here is the link to our Just Giving page.