Natalie's Olympic Journey
So, with the Winter Olympics underway I am reflecting back on my time as a physio at London 2012 Olympics.
A lot of people ask me questions about my time at London 2012 so here is some information about the selection process, training and my time as a Physiotherapist at the Olympic Games.
Selection process
18,000 people applied for 4,000 medical positions including physiotherapy, dentistry, and sports massage therapy.
I applied via an advert which was placed in our Chartered Society of Physiotherapy Magazine in November 2010.
In April 2011, I attended an Interview in London where I was asked general questions about good communication and team work. I was also asked specific physiotherapy questions about a weight lifter with an acute back spasm and how I would assess and treat them.
One of the Olympic sponsors was Cadburys. I managed to stock up on Cadburys chocolate at the interview!
Test Event
In December 2011 I attended a Taekwondo Test Event at Excel in London.
We practiced drills including emergency recovery of athletes from pitch side.
Physio treatments and sports massage were services on offer at the test events. It was great to be part of a team testing the procedures in the lead up to the real thing.
Best Christmas Present
I found out I had been selected to be physiotherapist at the London 2012 Olympics in December 2011.
I was based at Weymouth and Portland Polyclinic and at the Sailing venue.
I attended three training sessions:
Orientation
Role Specific
Venue Specific
Orientation Training
It was a great experience. A snowy day made getting to London fairly difficult but I made it to Wembley arena with 10,000 other games makers.
There were a number of talks about:
– The history of the Olympics
– The main message, which was to work hard but have fun too
– Making the most of a once in a lifetime opportunity
Celebrities presenters included Eddie Izzard and Jonathon Edwards.
My main memory lots of free Cadburys chocolate at the training – are you noticing a theme?!
Role Specific / Venue Specific
Here we met the other medical professionals we would be working with.
Details were provided about how the Polyclinics and Venues would run.
We got to look around the venue, polyclinic and sailing village. The sailing village was a newly built school on Portland. Within the school was a fully equipped Polyclinic, games room, chill out area, IT room and a gym. There were also houses for the athletes.
Physiotherapy at the Olympics
I was based in Sailing Village Polyclinic.
There was a team of physiotherapists, osteopaths, chiropractors, sport medicine doctors, doctors, pharmacists, dentists, sport massage therapists, paramedics and radiologists.
The polyclinic was open from 06:30 until 23:15 – covered by two shifts 06:30 – 15:15 and 14:30 – 23:15.
It was fully equipped with tape, game ready (ice / compression machine), sport massage oils, rehabilitation equipment, full pharmacy and ultrasounds scanner.
We offered treatment for all athletes, coaches and games critical workforce
I was also based at the Weymouth and Portland venue some of the time. Here there were physiotherapists, sports massage therapists, sports medicine doctors and an emergency response team.
The sailing venue where the sailing boats and windsurfers started their events from was an 8 min walk from sailing village.
Who did I treat?

I cant mention names, but I did treat a gold medialist sailor and windsurfer who came 4th!!
I treated both sailors and windsurfers from France, Italy, China, Ukraine, German and Greece to name a few.
All the athletes were really easy going and friendly and would socialise with other athletes in games room close to the polyclinic in the evenings.
Everyone that took part, from the athletes to the games makers made it feel like one big family and a great thing to be a part of.
Types of Injuries / Treatments
I treated a variety of injuries from lower back pain, muscle spasms between shoulder blades/muscles due to pumping sails, forearm muscle tears, ankle sprains and knee tendon problems.
Treatments included joint mobilisation and manipulation, sports massage, ultrasound (machine to get blood flow to area and reduce inflammation), kinesiology taping to support joints/facilitate/inhibit muscles, rehabilitation exercises to improve strength, flexibility and balance.
The aims of the physiotherapy treatments were to reduce pain, support joints and muscles and keep muscles loose to prevent injury.
Olympic memories
– It was a once in a lifetime opportunity.
– Amazing atmosphere – Fun to be part of Olympic family.
– How friendly the Athletes were and how much they appreciated the services on offer.
– Busy dentist and opticians – some countries have limited access to these services so all their family and team members were getting treatment.
– Broccoli  – we took part in a practice medal ceremony and broccoli was used as the flowers! (See picture below!)
– The Friendly armed policemen that used smuggle us sweets in under their hats as we were restricted to what food and drink we could take into the village.
– Watching the opening ceremony in sailing village and at Weymouth beach with the athletes who didn't go to opening ceremony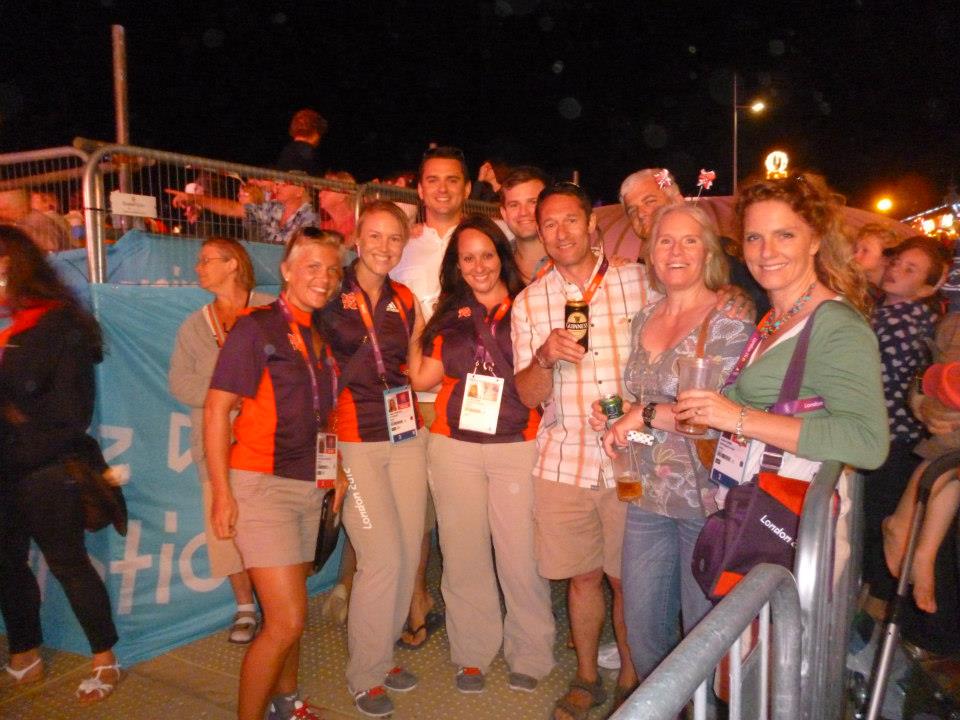 It really was a once in a lifetime opportunity and Im really grateful that I got to play a very small part in a little bit of history.
Thanks for reading my little story.
If you have an injury, niggle, pain or just want some advice on staying injury free then get in contact to book an appointment with Natalie or one of our other highly skilled Therapists by calling 02394 350 270 or 07835 712 306. Alternatively you can email enquiries@physio-logical.net or book online.