How Sports Therapy eased my Back Pain and Sciatica
A lady in her mid 50's came to see Jordan our Sports Therapist due to back pain which caused "excruciating shooting pains" down the back of her leg. She had been suffering with this for approximately 3 weeks before coming to the clinic and by that time she was also experiencing numbness in her foot.
How was it affecting Mrs. R's life?
" I am unable to work… I can't stand or sit for more than 5 minutes… luckily I was signed off by the doctor and given pain relief." Mrs. R
Mrs R felt that the pain started to affect her life as she was unable to enjoy going out for walks or even sit and watch a film. Two activities we have all been doing a lot of recently because of lockdown. 
On assessment
When assessing Mrs R's symptoms, she was experiencing a dull ache across her back and sharp shooting pains down her leg causing numbness into her foot.
Testing Mrs R's back range of motion started to highlight some of her symptoms, when turning to the right the dull ache across the back would increase feeling as if it was tight and pulling. This feeling was also felt when bending forward towards the floor, the movement also stimulated the sharp pain down the leg. This in combination with a few other specific tests highlighted that she was suffering from sciatic nerve irritation and also side mechanical (joint related) lower back pain.
Tight musculature
As the body tried to protect itself, muscles surrounding the back and the leg started to tighten. Mrs R was experiencing a tight calf alongside the glute and the muscles either side of the spine. These are all areas which can contribute to the sharp pains down the leg and numbness in the foot.
How did we help with Mrs. R's back pain
Firstly, we put a plan in place to keep Mrs R comfortable. We ensured she did not sit or stand for more than 15 minutes plus we made sure she was walking in between these two positions to make her as mobile as possible. In the clinic room we worked on reducing her lower back pain through mobilising the spine, and reducing down the muscle tightness through massage and acupuncture. 
Exercises
Sit to Stand (Glute strength)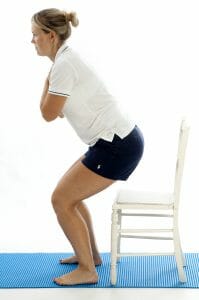 Cross your arms
Sit to stand and repeat
Toe Taps (core stability)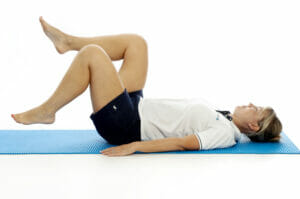 Tighten core
Slowly lower leg and then repeat on other side
Sciatic Nerve Slider
 

Sitting in a firm chair
Slowly straighten the leg hold for 5 seconds and then lower the leg
Once a day
If you are struggling with back pain then we can help you!
Our Sports Therapy and Physio services offer a full assessment, diagnosis and treatment available within our clinics at Stansted Park, Rowlands Castle and Horndean, plus we can also offer a video consultation service too.
To book please call 07835 712306, email enquiries@physio-logical.net or book online.