I was just reflecting on my journey as a private physiotherapist last night and looked back at where I have come from and where Physio-logical as a team are now. I realised it was our 11th birthday!
So here goes…
Why did I choose to become a Physiotherapist?
The truth is I didn't know what I wanted to do.
I was always playing sport at school and I was Sports Captain in my last year of school, so I knew I wanted to do something  that involved sport.
I went to a careers advisor. She told me I could study sports science at Uni. I asked what job I could get after that, at the time it seemed limited. I wanted to study something then have a job at the end of it, hence why I chose to study Physiotherapy.
Another reason; my sister is a physiotherapist and she said I would like it and I followed in her footsteps! She trained at Brunel University, she graduated in the July 2000 and I started at Brunel Uni studying physiotherapy in September 2000.
I like working with people, I love to listen and be able to help people.
When did I start working privately?
My journey began in my front room in 2008, in my 1 bedroom house in Basingstoke, Hampshire. I used to treat friends and family on a fold away couch.
Word of mouth grew and one person I treated put me in contact with someone at Active for Life Centre, gymnastics centre in Basingstoke.
Here I set up my first private clinic.
At this time I was still working for NHS in Basingstoke too, plus I was the physiotherapist for Basingstoke Rugby Club.
In June 2008 I had the opportunity to reduce my NHS hours and work for NHS part time and Nuffield Health part time, I was a corporate physiotherapist on site at Vodafone HQ in Newbury.
This was a major turning point for me as I had one full day a week free where it didn't matter if it worked for me or not pushing ahead with my own private patients.
At this time I was working from Fitness First, Basingstoke. I then moved to Regus, Chineham Business Park in Basingstoke, Hampshire.
Back then it was just me with my paper diary, managing the calls/bookings. In the end I was working 12 hour days back to back. The business was building.
I then decided I needed to come up with a company name. Cue my dads friend at his gym, Tim who came up with Physio-logical.
I relocated to Denmead, Hampshire in 2009. I worked at a few local private physiotherapy companies but always knew I wanted to build my own private patients and business further.
Another major turning point was being pregnant with my first born, who is now 5 ½ years old.
At the time I had two associate physiotherapists working with me at Basingstoke. I went on a business course. I was told having a baby would be the best thing for my business. They were right it made me step back, get an administrator and get more associates too so I could take a year off with my son.
In 2010 I set up my Havant clinic within what is now called My Fitness Hub. Thank you to Lou Williams for the connection.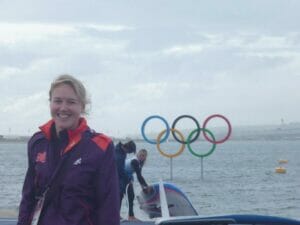 In 2012 I was lucky enough to be selected to join the 2012 Olympics as a Physiotherapist working at the Portland and Weymouth Sailing Village.
In February 2018 I started working privately at Rowlands Castle too, 1 day a week.
July 2018 was another big moment on my Physio-logical journey. I was still trying to run Physio-logical Basingstoke, Havant and most recently Rowlands Castle. With two young children and an ill family member this became too difficult. So I made a very hard decision to come out of Basingstoke and focus on Havant and Rowlands Castle, Hampshire.
This was the best decision as now at our Havant clinic we offer a 7 day service with early, late and weekend appointments too.
We offer Physiotherapy, Sports Therapy, Sports Massage, Neuro Physiotherapy and Acupuncture services.
Plus our Rowlands Castle clinic is fully booked most weeks too.
We are looking to recruit another physiotherapist to join our team.
Why did I set up a private clinic?
A few reasons:
My dad was made redundant in his fifties from an operations director position, he always encouraged my sisters and I to work for ourselves. The reason being if it didn't work out then we would only have ourselves to blame. Also, we would not get made redundant in our fifties!
I wanted to be able to have time to listen to each patient and then work with them to achieve their goals whether that be; being able to walk to the local shops, run a marathon, play tennis or their sport or run around with their grandchildren.
I wanted to be able to work with patients to get them 100% better and fully achieve their goals set.
I didn't want to be told I could only provide a limited number of sessions and only give patients exercise sheets. I wanted to be able to offer hands on treatment combined with exercises.
To be able to offer flexible appointment times and treat patients quickly after an injury, ache or pain rather than not getting to see them for weeks or months after their pain/ache started.
I wanted to be in control of my own diary so I could take and pick my children up from school, watch their school plays and sports days too.
Happy 11th Birthday Physio-logical!
That brings us to today, our 11th Birthday, as most people know having your own business isn't easy. It is hard work, I do work a lot of hours but it is all worth it.
I feel proud of what I and now my Team at Physio-logical have achieved and where we are going too.
We couldn't do it without all our lovely patients, their recommendations, the doctors, consultants, pilates teachers, gym and everyone else who refers patients to us.
Also I couldn't do it without the support from my amazing Husband, family, children, administrator, Kate and my team.
Thanks everyone, here is to the next 11 years. I'm sure I'll have a few more wrinkles then!