How Physio-logical can help with your charity challenge or sporting event.
At Physio-logical we work with a lot of patients who are training for and taking part in a variety of sporting events, charity events and personal challenges. We initially ask you what your goals are, then we work together with you to achieve your goals. This could range from wanting to improve your fitness, reduce an ache in your knee or any other ache, pain or stiffness in your body, to be able to walk 10 miles to taking part in your first ironman or ultra marathon.The key is to reduce your symptoms then support you with a strengthening programme so you can cope with the demand of your activity or challenge.We offer physiotherapy, sports therapy, sports massage therapy and acupuncture services to support you on your journey and iron out those pre and post event aches and niggles.
Some of the incredible events our patients have taken part in recently include:
Walk the Wight
Weymouth Half Ironman 70.3
Tough Mudder
Walk the South Downs Way
Cycle the  South Downs Way
London to Brighton Bike Ride
Hebburn to Havant Bike Ride (500 miles over 9 days)
Hayling to Paris Bike Ride
London Marathon
Great South Run
Devizes to Westminster – Kayaking
Local sailing races
Here are some testimonials from patients we have helped: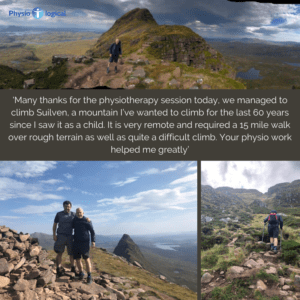 "Well what can I say, I came to you with a painful calf injury way too close to the challenge I had set myself that being the Brighton marathon.
Your positivity never faltered and you provided me with immediate treatment and advice in and out of hours.
You worked hard to maximise my chances of running the distance and I listened to everything you told me to do, every exercise at the all the times you advised and I made it to the start line.
I made it round every mile albeit with a little pain relief, without everything you did, it would sure have been a different story.
Thank you so much for helping me achieve the hardest
but most satisfying thing I have ever done in my life."
If you are struggling with your current training due to an ache, pain or stiffness, would like to reduce the risk of getting injured or just want some guidance about the best exercises or stretches to do to enable you to get to the start line pain free then Physio-logical can help!
You can book online, call 07835 712306 or email enquiries@physio-logical.net
We also love to hear from our patients after they have completed their events, so if you have a story we could share with others to inspire them as well we'd love to hear it, just drop us an email to enquiries@physio-logical.net.