Physio/Sports Therapy MOT's and Sports Massage Taster Sessions at Rowlands Castle Village Fair
On Saturday 6th July 2019 we spent another glorious day in the sunshine at the Rowlands Castle Village Fair. This is a great event for all the family to enjoy and we look forward to attending next years fair too!
On our stall this year, Jordan and Aniko worked tirelessly offering free 15 minute MOT's (mini physiotherapy/sports therapy assessments) and 15 minute sports massage taster sessions, whilst Natalie and Kate were on hand to answer all matter of queries and take bookings.
For some people they had not seen a Physiotherapist or Sports Therapist before or tried a sports massage which Is a deep tissue massage that really works out all those kinks and niggles and can work together with treatment from a Physio or Sports Therapist.  It was a very positive and busy day, and great to see so many people leave our stall feeling happier.
Wobble Board Competition?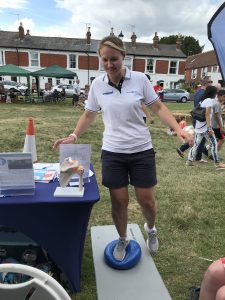 We ran our fun free competition again to see how long you can stand with one leg on a wobble cushion! This attracted visitors of all ages and abilities, everyone was keen to have a go and for some this also bought out their competitive side!
Congratulations to Georgina the winner who managed to balance for an amazing time of 4 minutes 12 seconds. They enjoy a free Physio/Sports therapy Assessment and treatment or Sports Massage worth £55.
 Why not visit our clinics!
If you've had a taster of the benefits of Physiotherapy/ Sports Therapy, why not set some time aside for a full appointment at our Rowlands Castle or Havant physiotherapy clinics. Please get in contact with us or book your appointment online today.
If you would like to receive our monthly newsletter with self help tips and exercises then please sign up today.
You can also subscribe to our YouTube channel, for all the latest exercise demonstrations.